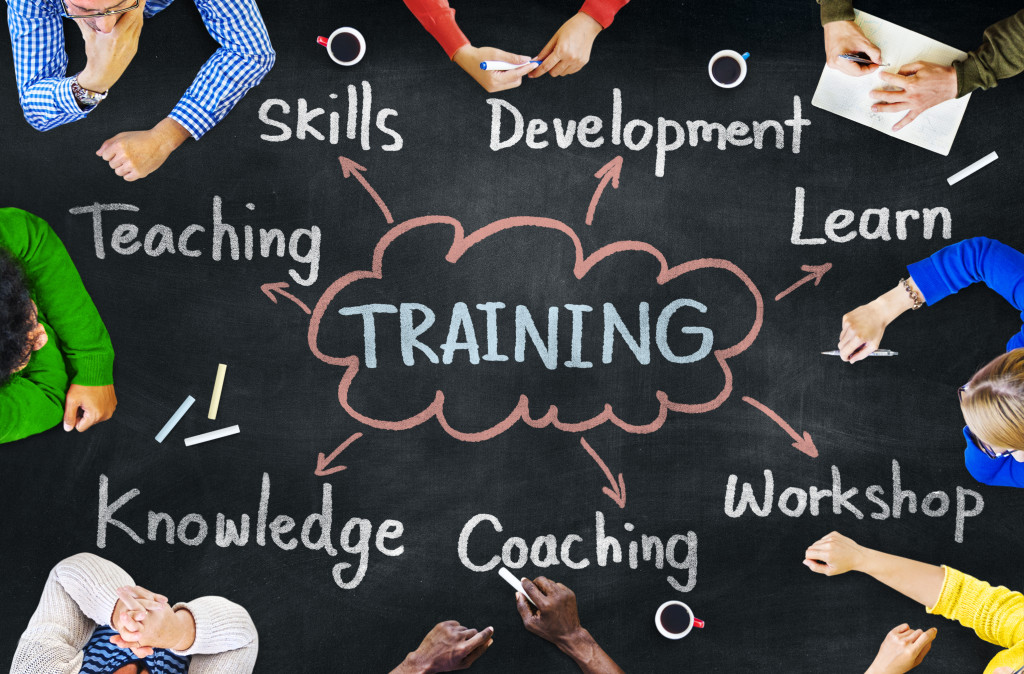 In today's cutthroat legal environment, lawyers are faced with high demands on both their time and performance. Lawyers are expected to increase billing and do more in less time, while also focusing on business development, project management, and professional development.
It's no wonder that lawyers are 3.6 times more likely to suffer from depression than non-lawyers.
This leads to lawyers feeling as though their day is compressed, living in .1 hour increments. This high level of demands and workload can often lead to anxiety, stress, and affect their mental and physical well being. This in turn affects the lawyers' ability to perform at the level the firm and clients need. Lawyers run the risk of losing focus, low productivity, and burning out.
For many lawyers, they try and bottle these feelings up. Push them down and work harder. Lawyers also engage in self-destructive behaviors that merely mask their stress and anxiety – substance abuse, alienating close relationships, and allowing their physical state to deteriorate.
Instead of pretending that these problems don't exist, lawyers need healthy and productive outlets to combat these issues. They need strategies and methods to help them cope with stress and focus on the productivity and well being.
Mindfulness and Resiliency Help Drive Business
Given these challenges facing today's lawyers, it is important to provide them tools to help them face such adversity and challenges. In the past two decades there have been great strides made into research on two incredibly important tools: mindfulness and resiliency. 
Mindfulness is a mental state achieved by focusing one's awareness on the present moment, while calmly acknowledging and accepting one's feelings, thoughts, and bodily sensations, used as a therapeutic technique.
Resilience is the process of adapting well in the face of adversity, trauma, tragedy, threats, or even significant sources of stress.
A lawyer's mind is arguably his or her most used and valued instrument, yet, we are never taught ways of training our mind for optimal performance. Mindfulness and resilience train the mind just like exercise trains the body.
Companies all over the world are taking notice of the benefits of mindfulness and resiliency. Aetna, Nike, P&G, Apple, Google, Maersk, Facebook, Target, Goldman Sachs, and General Mills are just a few examples of the many major corporations that are investing in mindfulness and resiliency initiatives.
Aetna has saved about $2,000 per employee in healthcare costs, and gained about $3,000 per employee in productivity with the implementation of this single [mindfulness] program.
The reason these companies are rolling out such programs is that they improve their employees' lives. Employees become happier, more productive, and stay with the company longer.
Goals And Benefits of Mindfulness and Resiliency
Happier workers means a higher retention rate and more productivity (for example, retaining just 10 attorneys for an extra one year, and billing 1,800 hours each at $350/hr. = $6,350,000 in non-disrupted revenue). Please note that the aim is to help create an environment that attorneys and staff flock to, not to squeeze another year out of an unhappy employee who's on the fence about leaving.
Changing a firm culture one step at a time. Many staff and attorneys find big law alienating and depressing. Firms have deeply entrenched cultures that lead to these feelings, and this workshop is just one method and step for working toward a healthier work environment.
Wellness and lifestyle considerations are a perk to which associates respond. Many firms are reporting associates rejecting high value economic incentives to bill more hours; attorneys don't need more money, they crave more balance and autonomy.
Earn the reputation of the firm that cares about its employees.
Develop the competitive advantage that comes with more focused employees and a healthier work environment.
We find that meditation allows your brain to get over the cultural ADHD that we've been creating by trying to do multiple tasks at once and allows our brains to focus on the task at hand. – Shawn Achor, NY Times best selling author and Harvard professor
Enthusiastic Feedback
"I've been to several of Jeena's workshops. I find her warm, compassionate and funny style engaging and inspiring. Her book inspired the longest run at meditation that I have ever had as well as a fresh approach to being really with my very young children and not thinking about a 100 other things. It has really helped my relationship with my family, my work and life in general. I am ever grateful to her." Shannon M Callahan, Senior Counsel, Seyfarth Shaw LLP
"I loved that it was a safe space for everyone to connect and talk about their experiences." Allison Elgart, Legal Director, Equal Justice Society
"Mindfulness for Attorneys changed my perspective on how to approach challenges in the workplace and at home. My anxiety has decreased and I feel much more centered; I am even sleeping better." Laura Blumenstein, Civil Litigation Attorney
"Informative and enthusiastic. Well done." Brian Berson, Criminal Defense Attorney, San Francisco, CA
"The class really reinforced my commitment to practicing mindfulness." Sarah Van Voorhis, Family Law Attorney, San Francisco, CA
"As a result of the class I am able to focus less on complaining and more on doing: Whine Less, Do More." Mary Persyn
"I would definitely recommend Jeena's meditation courses to any of my colleagues who are looking for a little more peace and harmony in their very busy professional lives. Jeena expertly guides you through the basics of meditation." Lori Andrus, Partner at Andrus Anderson LLP
"My life as a lawyer, a solo business-person, and mom to 5 is chaotic. I am very grateful that Jeena brought to me a different perspective to my day. Life may not slow down, but now I can see how taking a breath, improves each day." TC Langford, Langford Law Office, Bryan, TX
"Meditation has become a skill that I may place in my toolbox to become a more focused attorney and control the stress accompanying everyday living." Rachel Lynn Foley, Bankruptcy Attorney, Kansas City, MO
Mindfulness and Resilience Programs By Lawyers, For Lawyers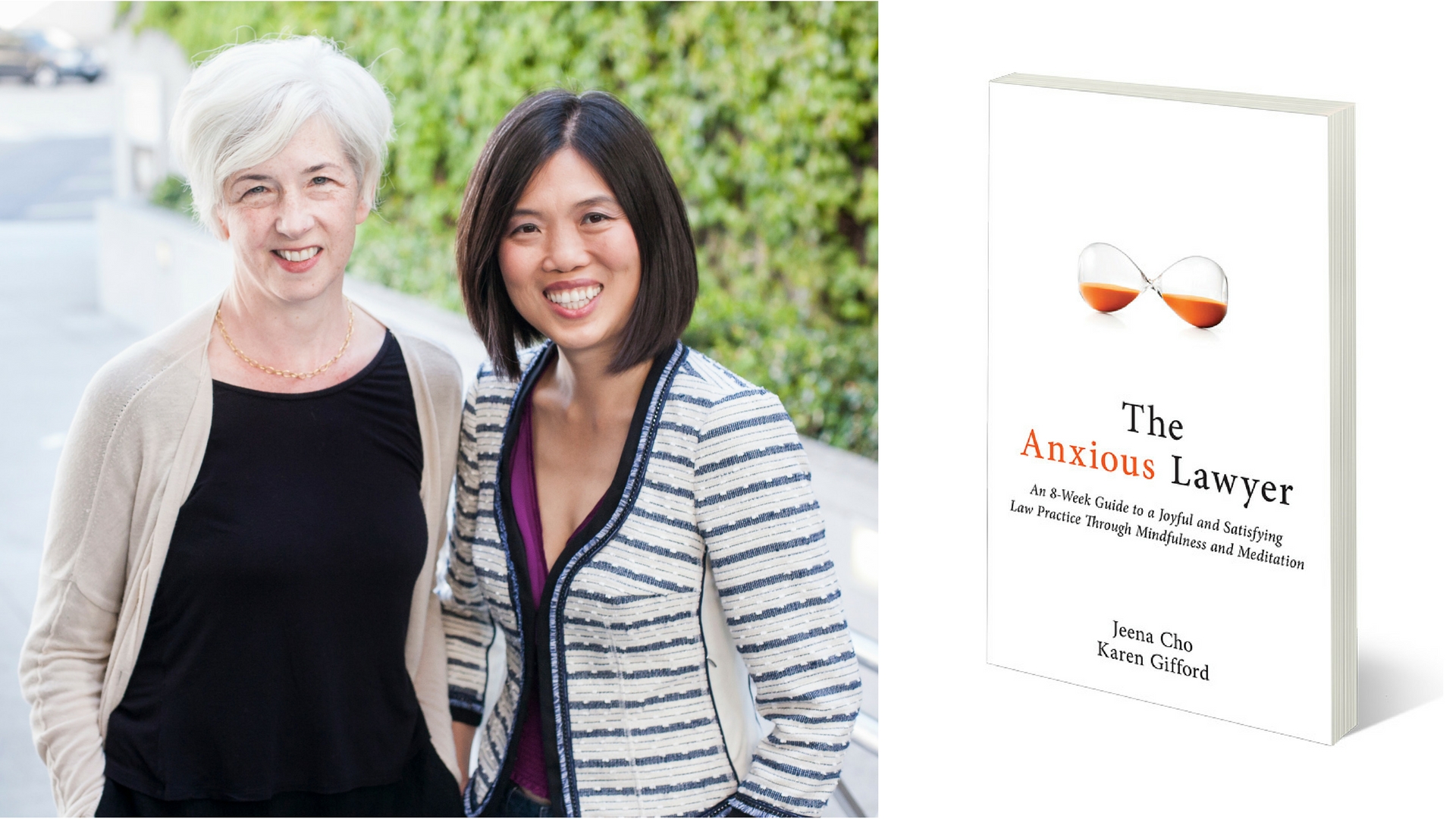 Jeena Cho is a lawyer with JC Law Group PC, a San Francisco law firm. She's been practicing law since 2004, first as an Assistant State Attorney in Tampa, FL then a bankruptcy attorney.
She co-authored The Anxious Lawyer (ABA) book with Karen Gifford, a former lawyer with Federal Reserve Bank of New York.
The program contained in the book are designed by practicing lawyers, and tailored specifically for lawyers and law firms. As practicing lawyers, the authors, Jeena Cho and Karen Gifford are intimately familiar with the stresses and the hardship that lawyers regularly face. We also understand how valuable time is for lawyers. In short, our programs are designed to deliver mindfulness training in bite sized pieces that can be incorporated into lawyer's busy schedule. The programs can be general or tailored to meet your firm's needs.
Programs & Workshops
Program
Hours
Topics
Better Lawyering Through Mindfulness (1 CLE)
 1
– Science of mindfulness and meditation.
– Link to well-being and increase in productivity.
– Simple practices to reduce stress and anxiety.
– Tips for incorporating mindfulness into difficult situations.
Productivity Through Mindfulness (1 CLE)
 1
– What is mindfulness?
– Understanding and defining productivity
– How does mindfulness increase productivity?
– 5 ways to use mindfulness to get more done
Mindful Inter-Office Communication (1 CLE)
 1
– Understanding different communication styles
— Mindful listening: listening to understand rather than to respond
– Managing difficult conversations
– Developing time bound and realistic goals
Working With Difficult People (1.5 CLE)
 1.5
– Acknowledging difficult situations
– Ways to use mindfulness to work with difficult people
– Understanding the limitations of what we can/cannot change
– Experiential exercise/ roleplay working with difficulties
Authentic Business Development Through Mindfulness
 2
– Overcoming anxiety around social interactions using mindfulness.
– Redefining "networking."
– Emotional intelligence factors that can enhance relationship building.
– Understanding the other person's wants and needs first.
Stress Reduction Techniques: 10 Tips in 1 Hour (1 CLE)
 1
– Get 10 easy to implement tools for increasing sense of well being and decrease stress/anxiety in 1 hour.
The Resilient Lawyer (1 CLE)
 1.5
– What is resiliency?
– Mindset for increasing resiliency
– Link between mindfulness and resiliency
Wellness Workshop For Lawyers (1.5 CLE)
 1.5
– Interactive workshop for learning practical ways of increasing one's well-being
– Practice/ learn fundamental concepts, including paying attention to physical, emotional and psychological health
– Difference between dieting and mindful eating
Better Lawyering Through Mindfulness (Upto 8 CLE)
8-Weeks
– An 8-week program based on The Anxious Lawyer book curriculum. Each session is 60 or 90 minutes long. [Learn more]
On-Demand Guided meditation
On-going
– Customized on-demand meditation
— Sample customized meditation topics:
— overcoming a difficult experience
— when you're feeling overwhelmed
— insomnia
— body scan
— working with physical pain
— working with emotional pain
[May be customized from 0.1 hour – 0.5 hour]
Individual Coaching Package
 On-going
One-on-one coaching sessions.
Schedule a call